Toasting Toastmasters In Lahore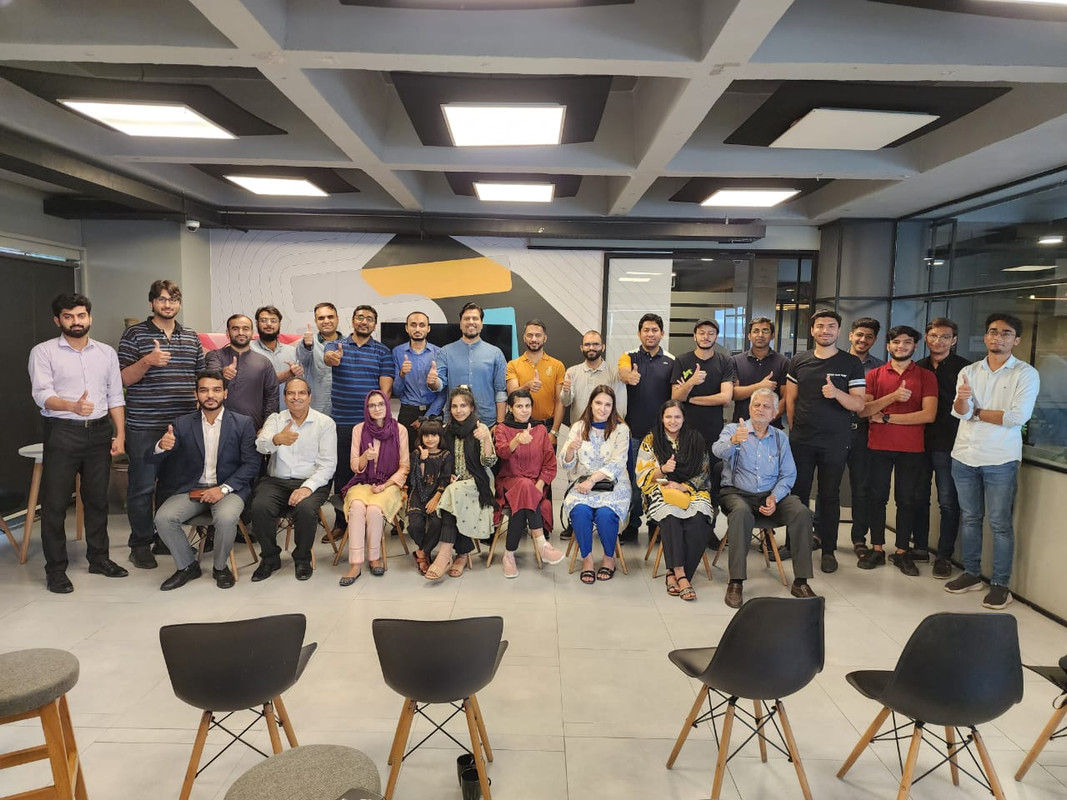 I'm a serial Facebook and Twitter(X) scroller because I tend to find nuggets of good content in the ocean of garbage that plagues these sites. And that's exactly what happened when I discovered a Lahore Toastmasters event.
Something different, right? I've heard of Toastmasters but have never had the opportunity to attend one of their events, but I've always been curious. The event was held in Daftarkhwan on MM alam road in Vogue Tower and my wife and I were some of the first attendees to be present. My wife did give me ample warning that due to that day's India vs Pakistan Cricket match, the turnout was liable to be dismal, and the fact is that most of the attendees didn't start filing in until after the event started, but eventually it was standing room only!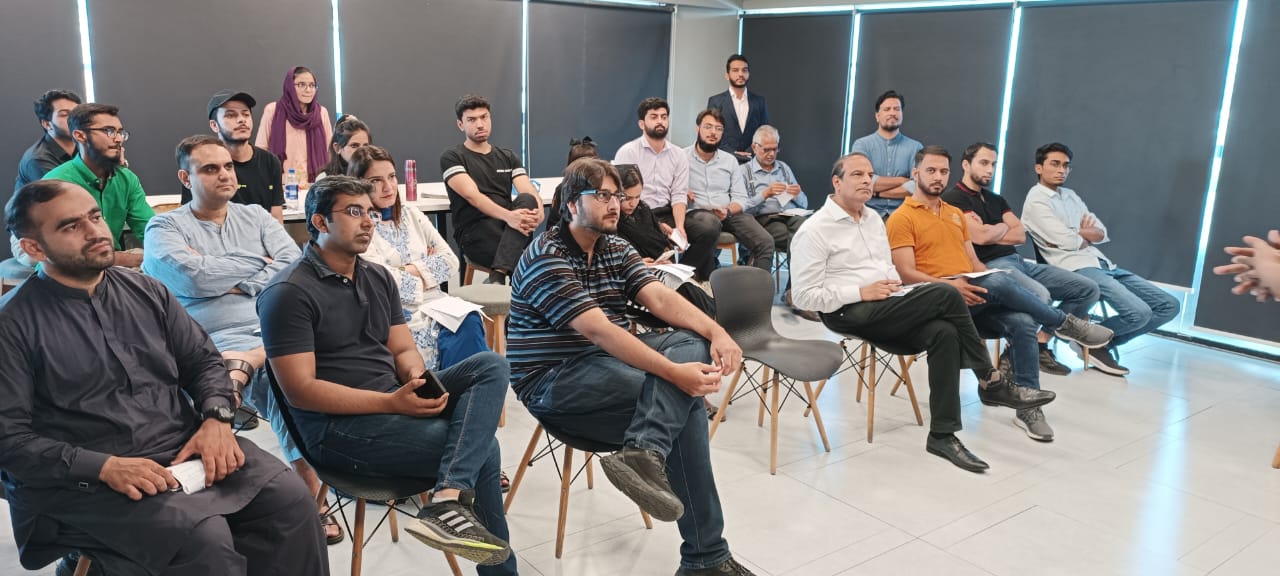 After introductions, formal members of the Lahore chapter gave prepared talks on an array of subjects. One participant in particular, Faraz, dazzled us with an excellent story about the power of words and how they may impact a person. Another member, a doctor, described the headaches he experienced when starting his own personal blog. He was even kind enough to provide printouts that acted as a roadmap to avoid pitfalls.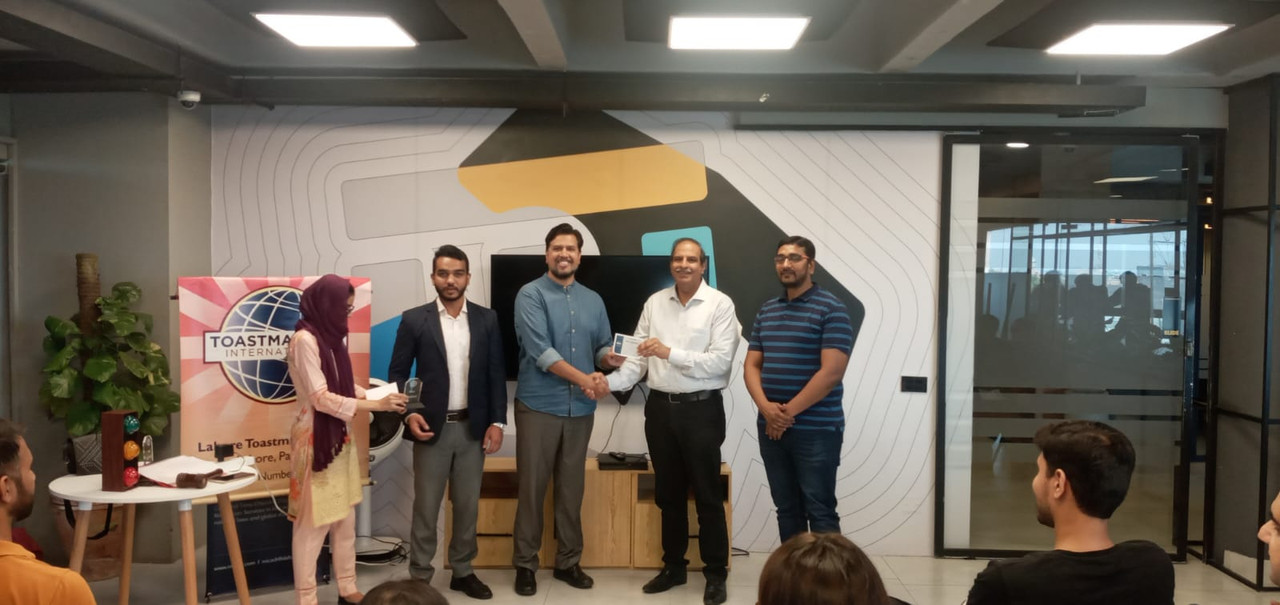 Faraz receiving his well deserved Award
While most of the participants' backgrounds were in the STEM fields, there was diversity in their objectives. One attendee desired to improve his English so as to communicate with his foreign clients better and another guest hoped to enhance her public speaking skills because she would be giving presentations consistently during her next project.
Something I certainly wasn't expecting was to win the award for best public speaker during the table topics session! I had about a minute to respond to a prompt regarding technology and while I think I performed ok, I had no expectations of winning the trophy.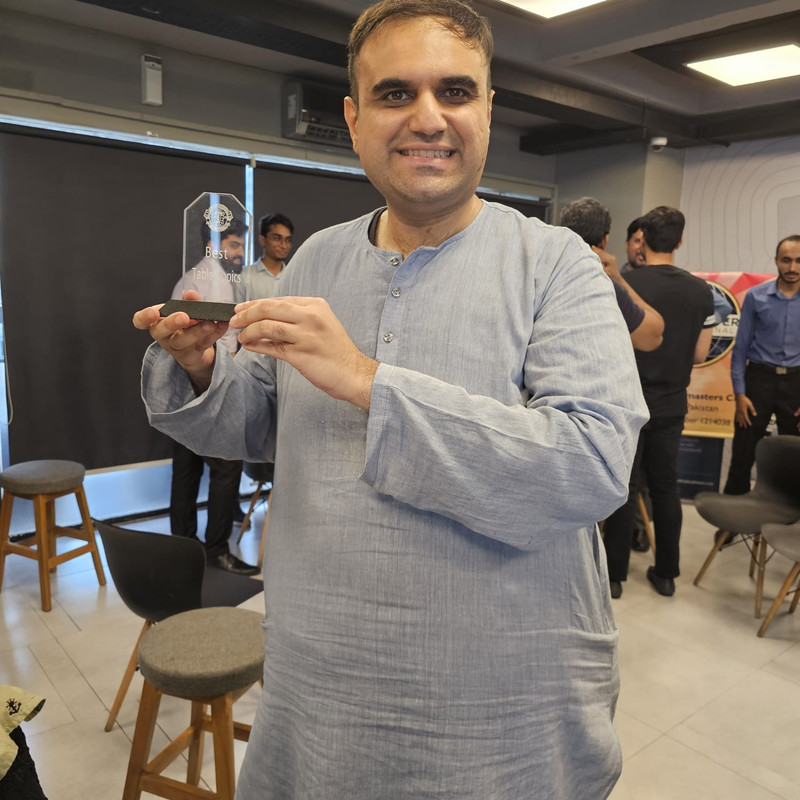 Yay!
I think a large component of why I won was that the topic was tech related. If you know me I can talk about tech all day long, and long into the night! Unless, of course, you'd like to talk about C++. Then we can't be friends. Another reason I ended up performing well was that I'm naturally a decent public speaker. I'm no Steve Jobs but I can hold my own!
The final treat was that the head of Toastmasters in Pakistan, Atif Irfan Shaikh, was present during the entire session. Mr. Shaikh presented me with the trophy and had a magnetic quality to him.
All in all, it was an excellent session. I took home a trophy, met superb people, and India and Pakistan tied their match, so no one was hurt!